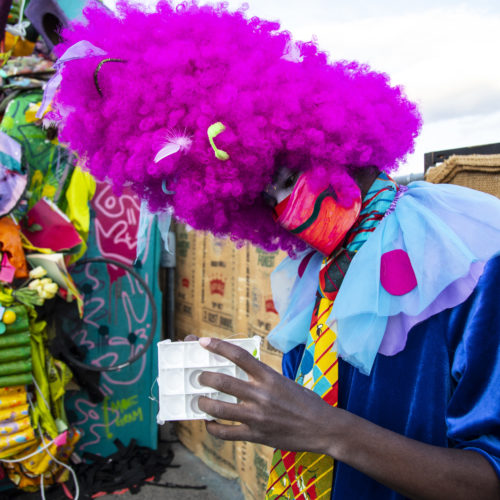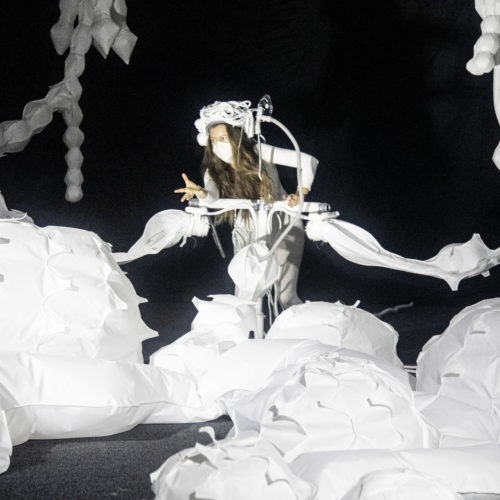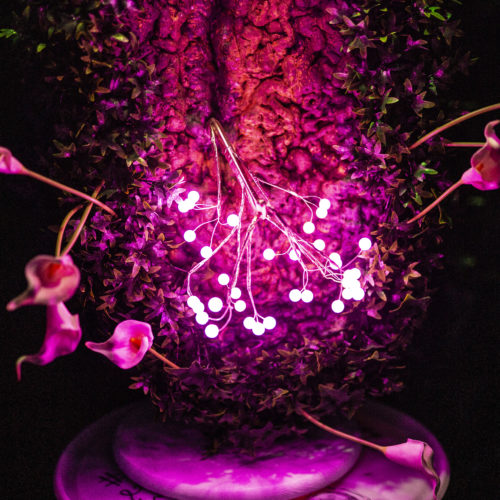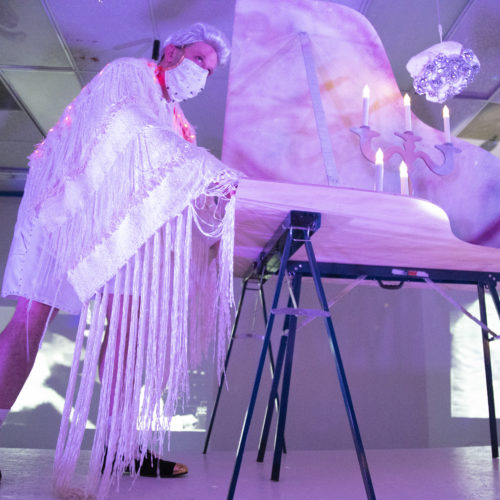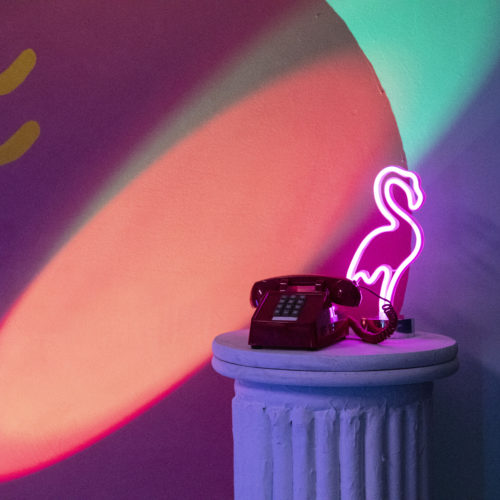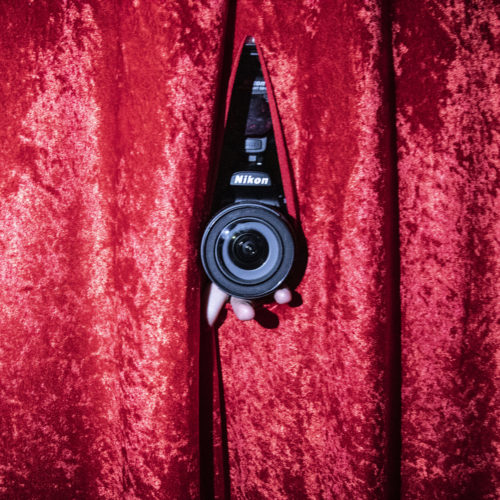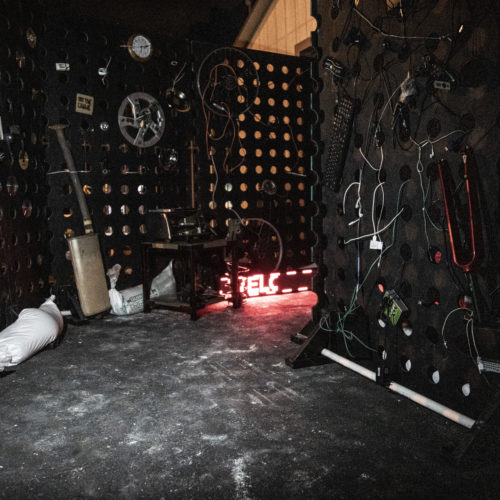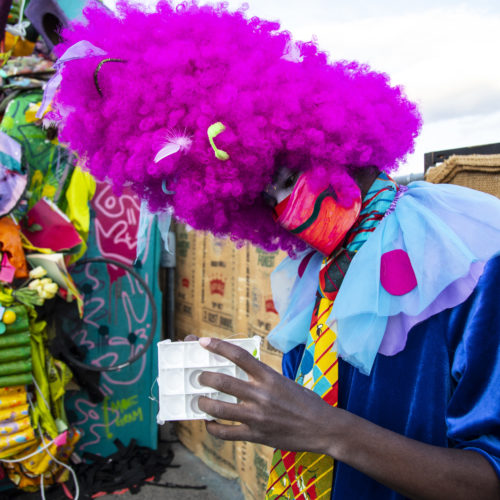 Moe Gram
Clown House
Artist: Moe Gram
Audio Producer: Carlitta (Ann)
Voice Actor: Justy Robinson
Performers: Justy Robinson, Sam Gilstrap
NP2G Artist Statement: Sometimes when you are doing your absolute best to be a good sport and put on a smile, life can just be hard. Like a kick to the genitals, you are painfully frustrated. Your heart murmurs in anticipation. Small repetitive heart attacks only dissipate when distracted. Sometimes no matter what you do you just get knocked down on your face. Until finally, the smallest thing like a grease stain on your shirt or smashing your finger is what breaks you. Like a cheap firework, you explode. Ashamed at how pathetic you are, you cry.
As you grow older you learn that feeling never really goes away. It just pops up here and there over the years. Ultimately there is just No Place To Go. You will continue to be haunted by the never-ending overwhelm that is existing.
Artist Bio: Moe Gram, is a Denver based designer, artist, educator, and community organizer. In 2014 she graduated with a Bachelor of Arts degree with a special focus in Studio Fine Art and a minor in Cultural Studies from California State University Bakersfield. While conceptual design is a great love for Gram, she is most commonly known for her brightly colored abstract murals, texture heavy collage, and her complex maximalist immersive installation works. Currently Gram is the visual arts educator at STRIVE Prep Green Valley Ranch Middle School and sitting board member of Birdseed Collective.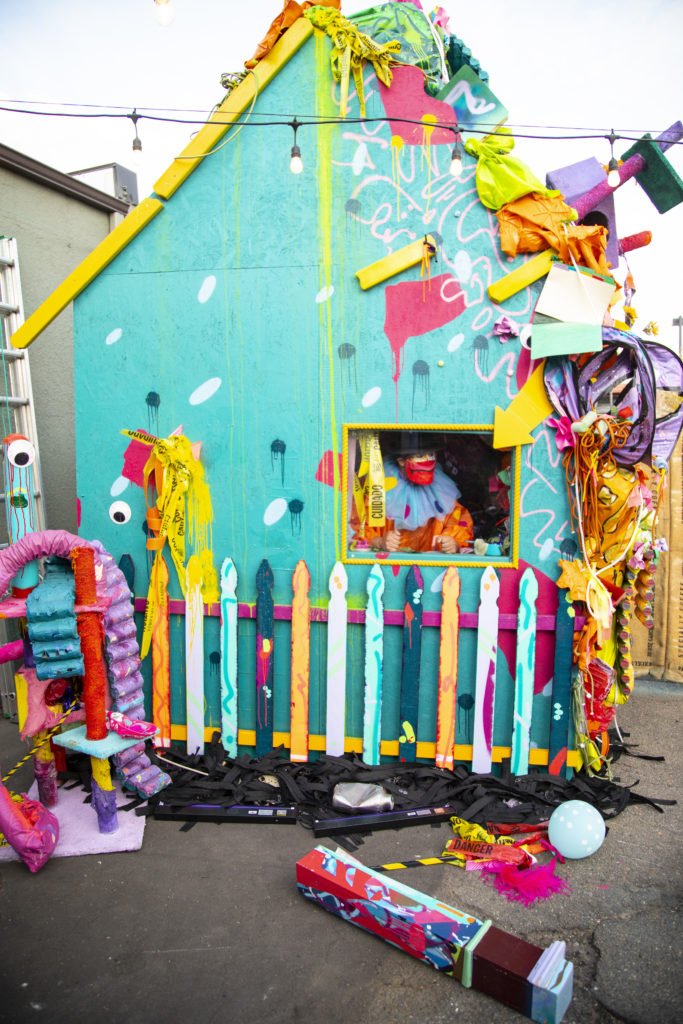 BAGBAYSHA
Salt and Pepper Ghost
Artists: BAGBAYSHA
Materials: Glass, mirrors, aluminum, Wire, electrical and video components, sunflower stalks, string, yarn, plastic bags, latex paint and spray paint, foil, paper, ink and glue
NP2G Artist Statement: Welcome to a holographic, twilight zone-outer limit, pandora box, gateway- portal sculpture… A rotating multi dimensional object which creates and uses light and reflection to produce layers of cast color and shadow. The shared experiences of this situation is/are to be interpreted by each individual as each experience shall be a unique combination of color light and shadow to feel as a whole… Thank you for being here.
Artist Bios: Denver Locals "BAGBAYSHA" that is: Chris BAGley, photographer/videographer/ documentarian, interactive projectionist, and collector of discarded/unappreciated items. Koko BAYer, photographer/videographer/documentarian and mega-scale printmaker/wheat-paster. Thomas ScHArfenberg, color, pattern, found-material enthusiast, multi-surface+object texture-painter, photographer and flower greenhouse worker.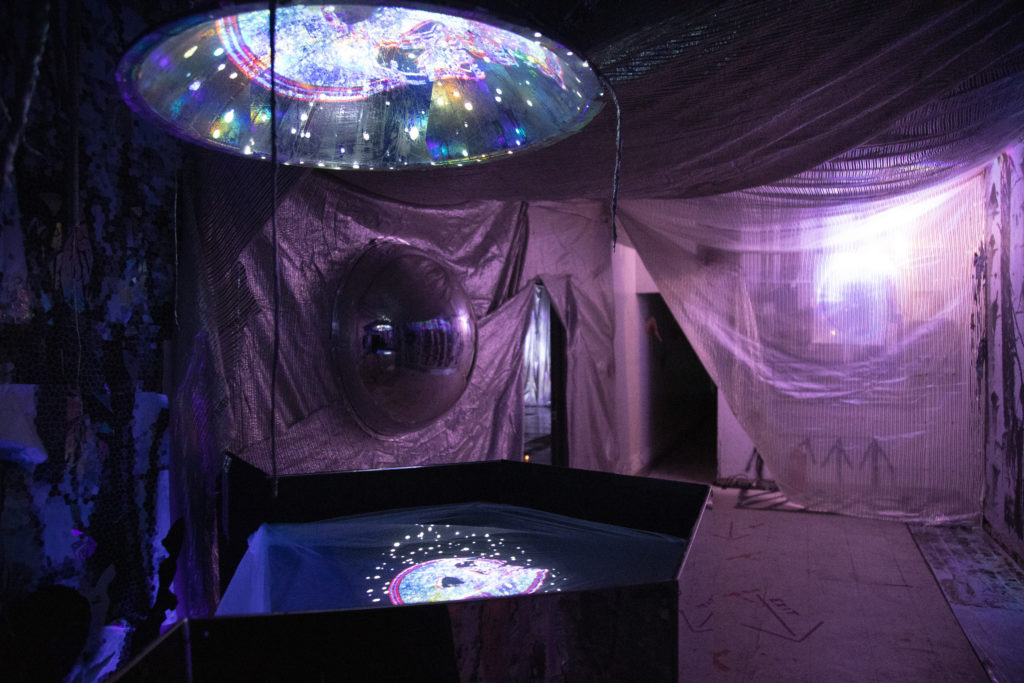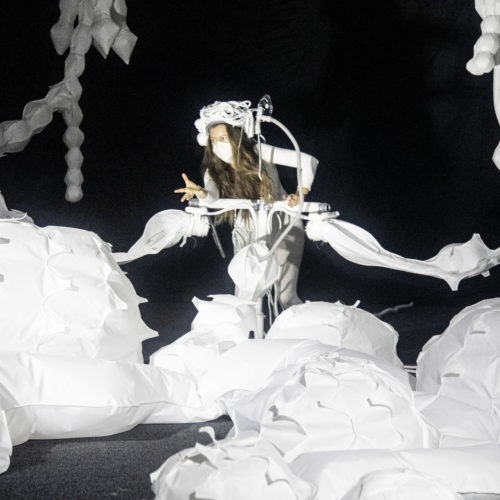 Nicole Banowetz
The Intervening Substance
NP2G Artist Statement: The Intervening Substance is inspired by ectoplasm, and the early mediums who produced it. Scientists captured mesmerizing photos of what looks like a cloth substance oozing from mediums' bodies. One researcher explains "The color white is the most frequent…. it can seem soft and a bit elastic when it spreads;…. it gives the sensation of a spider's web fluttering over the observers' hand…The substance is mobile. At one moment it evolves slowly, rises, falls, wanders over the medium…" Mediums had power because they delivered messages from beyond. Humans strive for guidance, and acceptance from mysterious external forces. We not only pursue messages from the dead but also solicit advice from Artificial Intelligence, fortune tellers, technology, aliens, Gods, and even celebrities or social media. What do we give up when we focus our search for meaning and acceptance on distant external forces. This work is a response to the human search for explanations to our existence, and our desire to be accepted. It is not meant to condemn our search for meaning, but to question our process while creating a complex feeling of simultaneous joy and discomfort within the viewer.
Artist Bio: Nicole Banowetz creates sewn inflatable sculptures.  Nicole's work is inspired by the natural world. She addresses human qualities while using the imagery she finds in the animal, plant, mineral, and bacterial worlds. She has made made installations inspired by bacteria, parasitic fungus, viruses, radiolaria, rotifers, horses, and rhinos. All these forms she recreates in soft inflatable sculptures, which she designs and sews on her sewing machine. Nicole has shown locally in the Denver Art Museum, The Museum of Outdoor Arts, and Pirate Contemporary, and internationally in the Amsterdam Light Festival, Open Art in Sweden, the Kreuzberg Pavillon in Germany, and Gray Contemporary and the Silos in Sawyer Yards in Houston, Texas.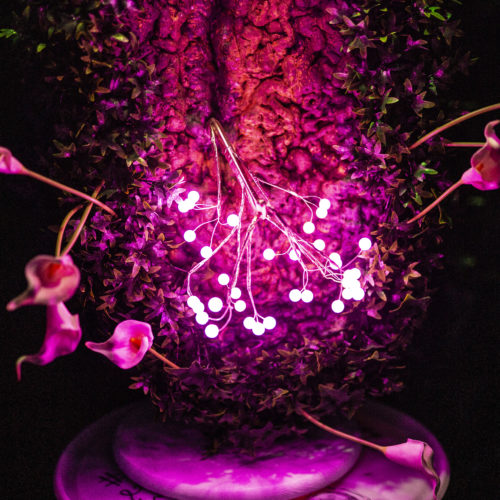 Nolan Tredway
Solids Are Just Fluids in Slow Motion
NP2G Artist Statement: One of the most devastating lies humanity tells is that love, passion, desire, and all of their distant relatives live in the heart. What catastrophic knowledge must these inhabitants contain to warrant a linguistic feigned expulsion from the garden of the brain into the wilderness of the body? What cold, wretched being would need to believe in a wall between the two?
In some gardens, anomalies are named weeds and believed to be discarded, invaders from bodily lands yet to be conquered. But the wild of the wilderness brain survives between the rows and boxes, a ghost haunting the ether of unseen spaces, flourishing. When their roots erode the garden walls, when all of the gates are opened, the gardeners with the most walls flailingly insist humanity must live in the heart, in the other body. Everything here is named and in boxes. It is paradise. The wilderness, already in its home, does not listen.
Artist Bio: Found covered in moss near the Korvik River, Nolan was raised in the Great North by a mountain and a burning forest. He learned the art of storytelling from his time among the Volkos, before studying art at the University of Nebraska and Fundacion Ortega y Gasset in Toledo, Spain. He creates surreal and symbolic worlds in painting, sculpture, puppetry and interactive media.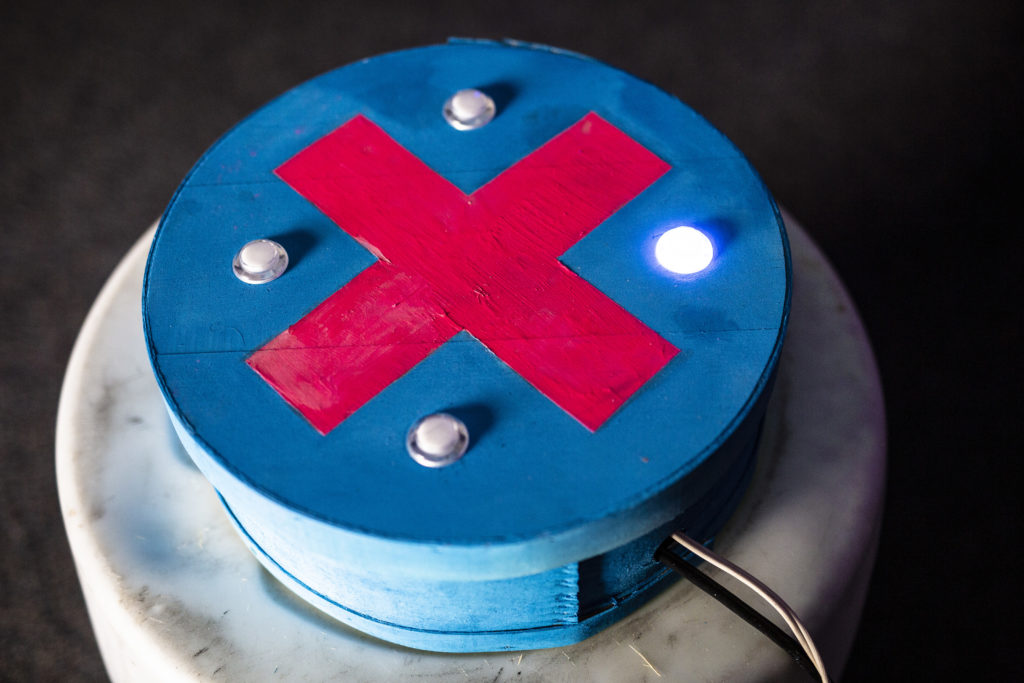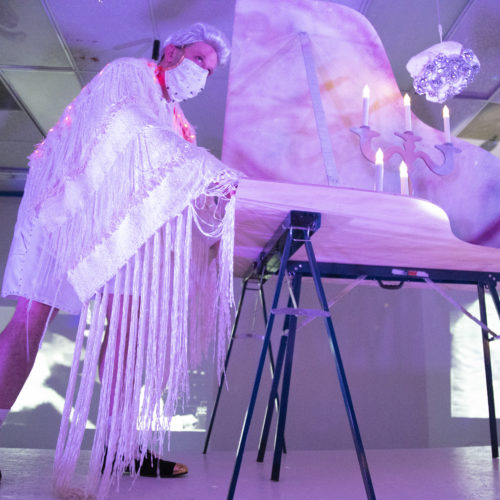 Steven Frost
Liberace in Purgatory
NP2G Artist Statement: Liberace loved all the finest things in life, diamonds, mansions, small dogs, and beautiful men. However, in the afterlife, he's moved from the glitz and glamour of a Las Vegas hotel to a gritty former Dollar Tree Store in Lakewood, Colorado. Some of the glitter of Vegas has rubbed off as he performs the same four-minute act again and again for all eternity.
Artist Bio: Textiles are a powerful medium — their association with the body and garments evoke tactile memories. Using weaving, Steven Frost combines traditional materials like yarn and cotton with non-traditional weaving materials from a range of sources, exploring the ways history and time are embedded in materials. His materials evoke specific narratives and stories, referencing aspects of the artist's personal and family history, the history of the LGBTQ rights movement, and queer pop icons, among other topics. In workshops and interactive performance events, the artist invites participants to learn about queer history while developing sewing and weaving techniques. By bringing together groups to weave collectively, Frost explores the ways weaving can act as a metaphor for communities working together. He holds an MFA in Fiber and Material Studies from the School of the Art Institute of Chicago and is an instructor in the Media Studies Department at the University of Colorado, Boulder. He also serves as Faculty Directory for the B2 Center for Media, Arts, and Performance part of CU Boulder's Atlas Institute.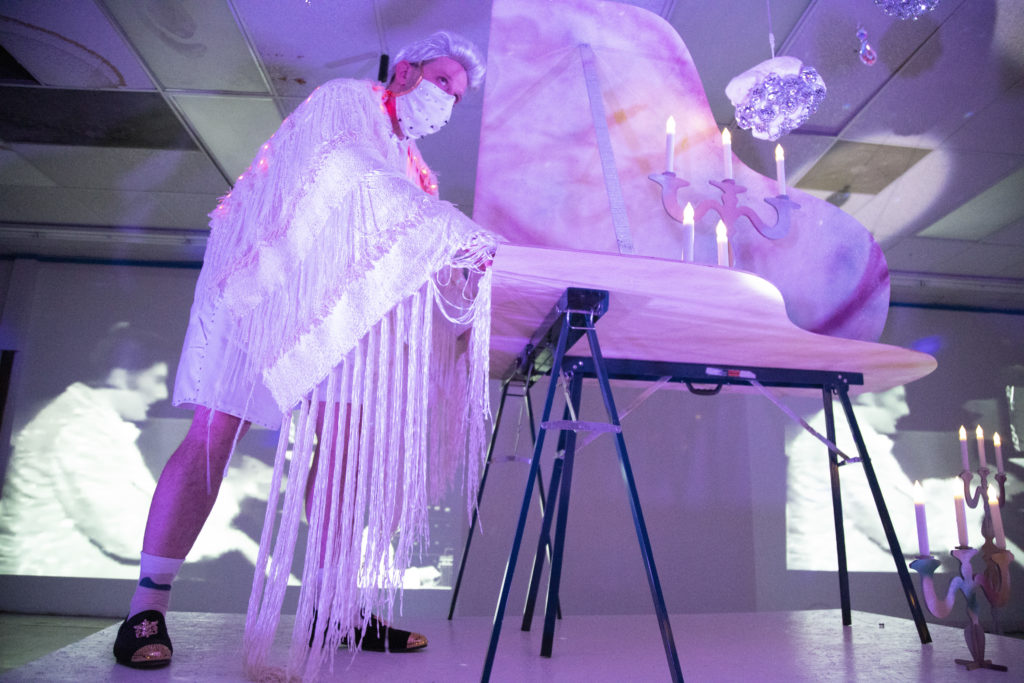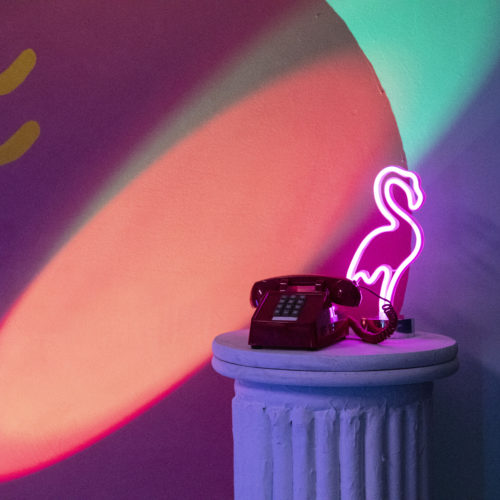 Hayley Dixon & Renee Marino
The Waiting Room
Artists: Hayley Dixon & Renee Marino
Design, Production & Fabrication: Hayley Dixon & Renee Marino
Sound Design: Justin Forthuber
Makeup Artist: Emily Hempstead
Nail Technician: Joy Martinez
Model: Rachel Daly
NP2G Artist Statement: The Waiting Room seeks to explore the anxieties that occur within the liminal space of waiting rooms. Intrinsically, waiting rooms are the modern limbo; time and actions are dictated by someone else, and the passage through is defined by one's ability to answer questions which minimize and homogenize identities. Although often associated with medical facilities, the concept of waiting rooms can be even more expansive– a place where one simply waits. Waiting rooms are a space of expectation and "correct" answers, but how do these spaces feel to those who exist outside of standardized narratives? This installation explores the anxiety and fear of existing outside of the norm and furthermore, becoming disconnected from personal agency. The room appeals to a vaporwave aesthetic, drawing on early 2000's digital art and a mash-up of obsolete and semi-obsolete technologies. Building on dystopian concepts of the past, the room reveals an enduring progression of sterile technologies that create dissonance between the space and the viewer.
Artist Bio: Hayley + Renee have been working together as creative collaborators since 2016, building creative spaces for people to celebrate life. Renee works in the realm of words, music, organizing, and publication. Hayley works in the medium of paper mache and absurd ideas, to bring joy and playfulness to spaces and events. Together, they have built immersive dance parties and have supported each other's creative endeavors along the way. Built with the desire to create, Hayley produces work that embodies nature and the vast unknowns of the imagination. Regarded as the AstroTurf Princess, she uses organic and artificial ingredients to transform spaces into strange worlds. Her mediums include: installation art, illustration, and event curation. Hayley co-produces a local Talent Show and builds installations for raves. With a love for communication and connecting with other artists, Renee began making poetry and art zines. Her zinester spirit has since given way to Dirt Media, dirtmedia.org, an online platform, supporting artists and writers. She is on the Board of Directors for Street Wise Arts, a local non-profit, which advocates for and implements urban art, murals, and art education projects.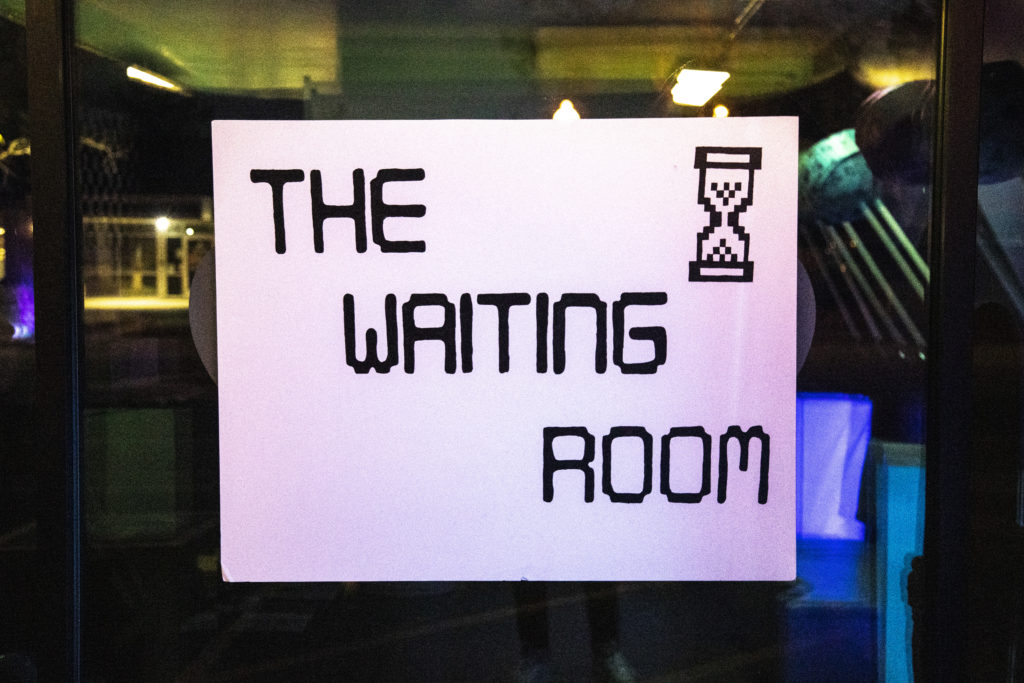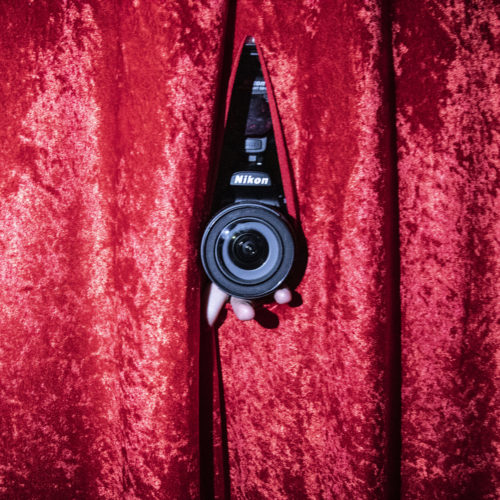 Hayley Krichels
Photo Booth
NP2G Artist Statement: In my work I am exploring the fear of being, of being watched/constantly having to perform and how it interacts with the same desire to perform and be seen. These fears are paramount to the queer identity; there are common, accepted ideas of what we are and how we exist in the world. We are expected to constantly represent these ideas in the public view. I am addressing these ideas by pairing the classic photo booth with the disconcerting voice of the observer, and an inability to control when and how you are being viewed.
Artist Bio: Hayley Krichels is an artist and educator based in Denver, Colorado. After receiving her degree in Photography from Bard College, Krichels worked in art education programs at RedLine Contemporary Art Center, Clyfford Still Museum, and now Denver Public Schools. In her photography, she explores visual humor and the way artwork lives in our world. She also enjoys quilting her feelings and may someday share these creations with the world.
Grace Cooper & Chrissy Espinoza
Sleep Paralysis
Artists: Grace Cooper & Chrissy Espinoza
NP2G Artist Statement: This installation piece is a collaboration between Grace Cooper and Chrissy Espinoza consisting of a bedroom scene combining video, sculptural, and performance elements. We hope to exhibit the emotions and the internal struggle happening within the stillness of an ordinary bedroom.
With this project we'll delve into our shared experiences with sleep paralysis and demonstrate our visual representation of it playing out in accordance to our comparative experiences and the accounts of many others. We will be exploring concepts of subjugation, estrangement and fear that can be experienced even within the safety of a seemingly peaceful and familiar environment. We will be focusing on the supernatural effects from sleep paralysis. An alarming number of sufferers observe a similar dark or demonic entity that suppresses one's ability to breath by perching upon their chest or pinning them down. The video projection will be shot and directed by Chrissy Espinoza and feature Grace Cooper performing "the spirit" or the conscious attempting to escape the body (the bedridden sculpture). Gina Pugliese will appear in a projection over the body in the form of the classical sleep paralysis demon. Inspired by the iconic incubus from Henry Fuseli's 1781 oil painting "The Nightmare."
The feeling of being trapped is terrible. Feeling helpless is terrible. We hope our piece will speak to any persons that have ever felt those feelings even if they have not themselves suffered from sleep paralysis. We hope it will speak to anyone who has ever been restricted to the isolation of hiding their true selves or concealed themselves sensing a potentially hostile atmosphere. To anyone that has been stranded in a time and place that in one reality seems familiar and innocuous, yet in another is oppressive and dangerous. To anyone that's felt trapped in their own body. To anyone who's felt watched, spied on or viewed as a curiosity.
Artist Bios:
Chrissy Espinoza grew up in Colorado and has lived throughout the American West. She attended Rocky Mountain College of Art & Design where she studied 2D Animation. She works primary with video, photography and animation. Her short animations have been in independent film and animation festivals in Colorado, the Bay Area and Amsterdam, including P.O.V Animation Festival, Filmhuis Cavia and the Titwrench Art & Music Festival. Espinoza creates surreal environments for her photography which are created from her concepts and imagination. She thoughtfully creates and thinks about every detail for her photoshoots. The act of creating the environment is just as important as taking the photos. Some of her inspiration spawns from installations, surrealism and films. She believes that a great story is key to intriguing the viewer and creating a successful piece of artwork.
Grace Cooper is a self taught artist and musician from Oakland Ca. She started drawing at a young age and is now known for her detailed and unsettling portraits of mainly female subjects. She works primarily with fine point pens and water color. She is also a singer songwriter and has released multiple home recorded and studio albums, both solo under the name "Grace Sings Sludge" and with the San Francisco group "The Sandwitches". For her solo project she creates her own music videos and incorporates many elements from her favorite genre of film Horror.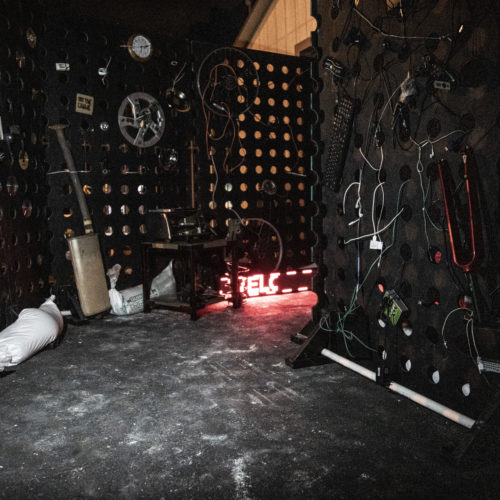 Emily Marie Passos Duffy & Michaela Mujica-Steiner
Dream Sold Wholesale
Artists: Emily Marie Passos Duffy & Michaela Mujica-Steiner
Performers: Roxanne Whiskey, Lady M, Rebecca Rooney, Hannah Tiên, Britt Ford, Laika Fox, Caroline Sharkey, Amy Marie Linhoff, Aleighya (AJ) Dawkins
NP2G Artist Statement: What would you give up in order to be part of a new world? This multi-medium hybrid performance/ installation peers behind the curtain of a posthuman liturgy at the parts and wires of a crumbling façade. We explore a relationship of dependence and exploitation as the technologically blurred boundaries of the machine and the organic manifest a chaotic cyborg reality. As we relinquish our data into the vectors of consumerism, our differences, our queerness, and our struggles for resistance find no way to escape from the digital nation-state. Situated in this violence of assimilation, capitalism, and consumer culture, we examine our relationship with excess and disconnection from the earth and each other. In this manifestation of the myth of the American Dream, there is no light at the end of the tunnel, only glitching circuits, bodies alienated from themselves. What would you sacrifice in order to avoid being the thing sacrificed?
Artist Bio: Hemmed: Embodying Liminality This creator-performer duo is composed of Michaela Mujica-Steiner and Emily Marie Passos Duffy. With backgrounds in a variety of performance art modalities including poetry, narrative writing, burlesque, and immersive soundscapes, the two endeavor to explore adaptive strategies, spaces of be/longing, and cultural assimilation as daughters of Latinx immigrants. Some of their collaborative work to date has included designing and performing in interactive landscapes for Boulder Burlesque's The Seven Undeadly Sins: An Erotic Haunted House Experience, creating and performing a polyphonic multimedium piece in Writers for Migrant Justice as part of a national protest reading and fundraiser for Immigrant Families Together, co-teaching a 5-week Conscious Burlesque workshop, and co-choreographing and performing a duet in Condom Couture, a benefit for Boulder Valley Women's Health. Their devised productions interrogate liminal spaces and weave together the frayed ends of identity, inheritance, and unperceived societal shadows.